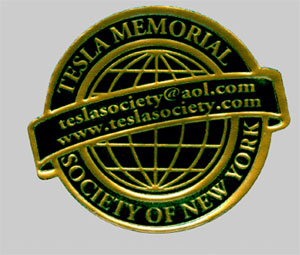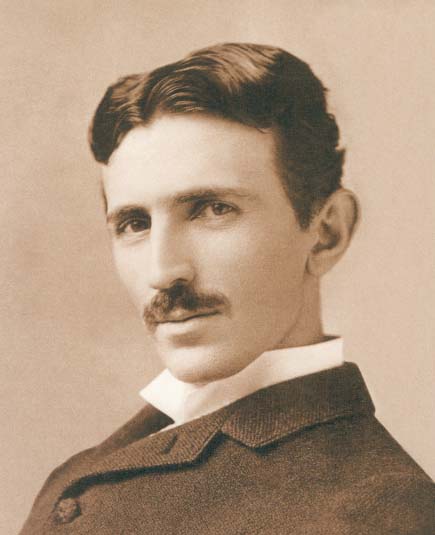 Above: Nikola Tesla (1856-1943) at the age of 38.
This informative article "Nikola Tesla: The Scottish Connection" is written by A.J. Morton, our Secretary for Scotland. Mr. Mortan is a distinguished Scottish writer, journalist and editor. He is equally esteemed in his native Scotland and as a member of the Tesla Memorial Society of New York.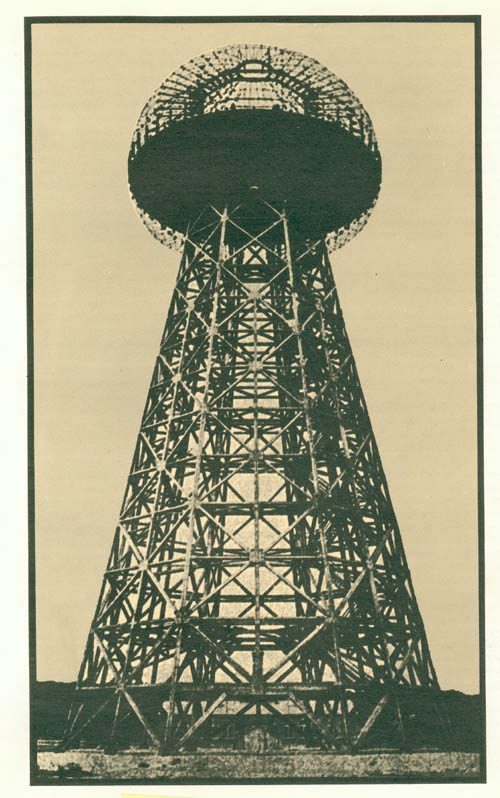 Above: The Famous Tesla Tower erected in Shoreham, Long Island, New York was 187 feet high, the spherical top was 68 feet in diameter. The Tower, which was to be used by Nikola Tesla is his "World Wireless" was never finished.
Tesla's Wardenclyffe Tower was located Long Island, and was built as the first broadcasting system in the world (1901-1905). The Tower was financed by American millionaire J.P. Morgan, who in the end withdrew funds from Tesla and the Tesla Tower was never finished. Tesla wanted to transfer huge volumes of electrical power from Niagara Falls over the Tesla Tower and wirelessly transmit this electricity all over the globe. This wireless transmission of electricity was meant to be transfer via the Ionosphere (the upper atmospheric level around the globe under constant solar radiation) and partially through the earth.
Speaking about Tesla's Wardenclyffe Tower, Mr. Morton wrote:
"According to Tesla himself, a secondary tower, a sister of Wardenclyffe, was built in Scotland and was in operation. Nobody knows where this enigmatic structure is. I wrote a four-part series of articles for a number of Scottish newspapers in 2008. These explored the forgotten contribution of Scotland to early radio pioneering, and the fascinating, tantalising connection Tesla had with that country."
The following information below can be found at: http://teslainscotland.weebly.com/


Nikola Tesla, one of the greatest inventors of the 19th and 20th centuries, is in your house right now. Look to your radio, electricity socket, internet, Bluetooth device, mobile phone or microwave and you will see little bits of Tesla operating away in the background.

Among many other things, Tesla invented a method of transferring electrical power through the air. The details of this particular invention are rather hazy but he was almost certainly suggesting a way to recharge an electrical device remotely. Without wires.

If Tesla knew just how many of us were using cumbersome chargers, trailing wires and plugs larger than the mobile phone they are attached to, he would be spinning head over heels in his grave. Using his technology, a mobile phone user could simply sit their device on the desk next to their computer and have it remotely recharged. It could be moved, used and fiddled with but would remain switched into a virtual remote recharge. We can assume that Tesla could power a device as small as a mobile phone since his own goal was to recharge – remotely - enormous electrical devices such as aeroplanes in the sky, or entire cities.

He claimed to have built a device which could split the earth in two. Another instrument, he asserted, could control the weather and bring forth lightning storms and earthquakes. He would later claim to have invented a ray gun (which could take out aeroplanes or missiles or, as Tesla saw it, end all wars). He conceived of a global communication wireless network more than a century before wireless internet found its way into our homes and hands.

He built two towers to make this happen. One was at Wardenclyffe.

The other was somewhere in Scotland.
Nikola Tesla "asserted there was a similar power house in Scotland..."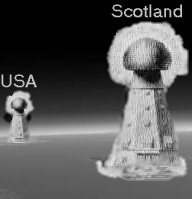 In 1901, Tesla announced that he had begun construction of a 'Radio City' on the East Coast of the USA. It was to serve, in the words of one biographer, as the "hub of a worldwide broadcasting system" in which all devices would be connected. At the heart of this proposed city was a restricted section, heavily protected by security personnel and subject to 24 hour surveillance. Here was Tesla's Wardenclyffe Tower, a curiously large, almost disproportionate electrical station built to his own peculiar specifications and dedicated to the grandiose task of lighting up the world. Literally.

Wardenclyffe was to be Tesla's crowning achievement. The impression we have today is that this near-gothic creation was entirely unique. That this tower alone could power the entire globe was an admittedly stunning, and almost unbelievable claim but Tesla insisted it was true and repeatedly proved true to his word in other projects (look at your phone) so most of us are willing to give him the benefit of the doubt.

According to a 1902 edition of the Babylon Signal, Nikola Tesla "asserted there was a similar power house in Scotland" and that it had already been in operation for some time.

It was well known to the pioneers of the early 20th century that the west coast of Scotland was perfectly structured for the large scale testing of Atlantic radio transmissions. It faced the east coast of the United States and was peppered with numerous isolated spots. An early technician could set up a radio station in any one of the secret sites of the west coast of Scotland and know that his site was safe, secure and within radio reach of America.


---


---
Contemporary Quotes

"When the first plant is inaugurated and it is known that a telegraphic message, almost as secret and non-interferable as thought, can be transmitted to any terrestrial distance, the sound of the human voice with all its intonation and inflections, faithfully and instantly reproduced at any other point of the globe, the energy of a waterfall made available for supplying light, heat or motive power, anywhere - on sea, or land, or high in the air - humanity will be like an ant heap stirred up with a stick. See the Excitement coming..."
Nikola Tesla

"Mr. Nikola Tesla, the world renowned scientist on Tuesday of this week, closed a contract for the immediate building of a wireless telegraph plant and electrical laboratory at Wardenclyffe, situated nine miles east of Port Jefferson, where on the 200 acres recently acquired by Mr. Tesla, he will within thirty days, begin the erection of a plant, which when completed will be the largest of its kind in the world. The first building will be 100 feet square with others to follow. The power plant will be 350-horse power. Mr. Tesla has for several years past maintained an extensive electrical laboratory at Houston Street in New York City, where he has discovered and developed many marvelous features in electrical power and usefulness. The above will draw to Wardenclyffe men in the highest scientific circles from many portions of the globe."
Port Jefferson Echo, August 2nd 1901.

"Notwithstanding inclement weather and the usual obstacles and difficulties incident to the development of great enterprises, the Tesla improvements at Wardenclyffe have gone steadily forward. The power house, constructed of pressed brick, is 100 feet square and divided into a boiler room, engine and dynamo room, machine shop and laboratory. The boilers, engines, dynamo and other electrical equipment are being placed under the supervision of the Westinghouse Electric Company, where a force of employees from Mr. Tesla's New York establishment is busy setting the drills, lathes, etc. in the machine room. The power house is completed, the foundations of the great tower put in and the well in connection herewith sunk to the required depth of 120."
Port Jefferson Echo, February 1902.

"...the power house at Wardenclyffe occupies nearly three acres and is fenced in so that no one can get a view of it except those who are working within the enclosure. Mr. Tesla asserted there was a similar power house in Scotland." Tesla said "We have been sending wireless messages for long distances from this station for some time, but whether we are going into the telegraph field on a commercial basis I cannot say at present. "
Babylon Signal, August 1902.

"Some of the farmers who come to Wardenclyffe to send their products to the city look at Mr. Tesla's tower, which is situated directly opposite the railroad station, and shake their heads sadly. They are inclined to take a skeptical view regarding the feasibility of the wireless, world telegraphy idea, but yet Tesla's transmitting tower as it stands in lonely grandeur and boldly silhouetted against the sky on a wide clearing on the concession is a source of great satisfaction and of some mystification to them all."
New York Times, March 1904.

"From the time that Tesla secured the large tract of woodland, where the electrical plant is now situated, up to the present date, Mr. Tesla has maintained rigid privacy about his methods and plans. He does not court publicity as to the details of his work and newspapermen who call to see him are not likely to get overloaded with technical information. The visitor who walks into the grounds and approaches either the machine shop or the tower and well is met by an employee, who explains in polite but forceful language, that it is private property and that Mr. Tesla does not care to have visitors at that place. Mr. Tesla claims that it is today possible to communicate between any two points on earth, using the earth as a conductor. From his plant at Wardenclyfe he could run the electric motors and the big printing presses in the Brooklyn Times office. "
Brooklyn Times, June 1905.

"This one gathers from occasional meetings with the Wizard of Wardenclyffe. He talks freely of his work to those who have his confidence and to such he is a wonderfully interesting man. His thought is concentrated almost solely upon electrical work and he is sufficiently human to enjoy discussing his work with those who have a fair comprehension of his accomplishments. Dozens of Tesla's inventions and discoveries in connection with electrical work have been patented. The inventor positively asserts that there are many infringements of his patents in daily use in connection with wireless telegraphy" coneniences. He says he has met with an immense amount of opposition along various lines and that difficulties which would have put most men out of the race have been successfully overcome. He has implicit faith in the future of his many appliances."
County Review, June 1905.

"The queer tower has been taken for some new-fangled kind of a lighthouse, a wireless telegraph station and a pumping station. Every native keeps his eye on it in the hope that he may catch on to its secret, but as yet all are in the dark as to its purpose."
Brooklyn Times, June 1905.

"An atmosphere of mystery hung over the place, an unearthly influence seemed to be radiated from the alemble topped tower, as if drawn down from interstellar space and spread over the countryside to inspire wonder and awe in the minds of the nearby farmers and villagers, who knew only that Tesla was searching for or working with wonder currents that had something to do with wireless and electricity."
The Eagle, 1911.

"Standing like one of the fabled Martian giants, from H. G. Wells' tale of the "War of the Worlds', the tall Tesla tower has graced the landscape of this village for a decade and a half of years."
The Eagle, 1916.

---


Radio in Scotland: The Fessenden Claim, 1906

Reginald Fessenden constructed a two-way radio transmitter/receiver system across the Atlantic in 1906. He had initially planned to build it in Machrihanish (in a county visible from Ayrshire, sitting roughly at the same latitude as Troon and Prestwick) but the project was abandoned after a storm felled the large antennae and radio shack already built on the site. The entire system was moved to England, where a successful transmission was received before the year was out.

---
Further Research

Wardenclyffe Project
Fessenden on the BBC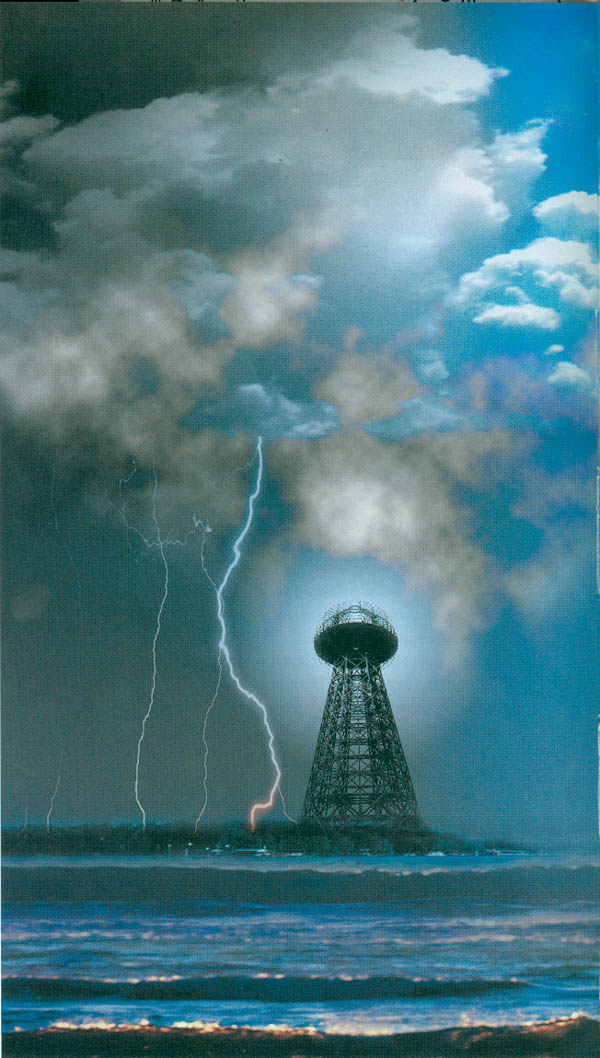 Above: Wardenclyffe Tower, Tesla's Idea about electrical control of rain falls. From the book "Tesla" by Dr. Branimir Jovanovic.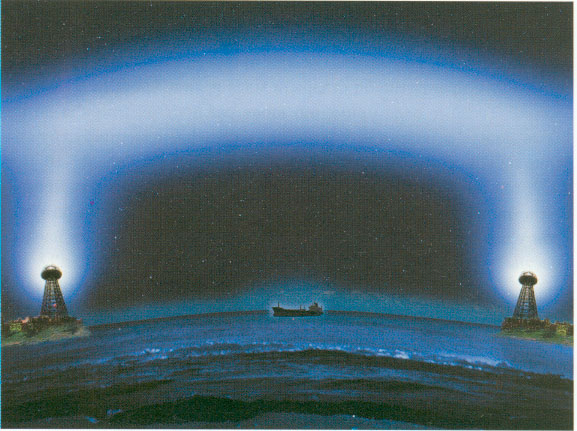 Above: Tesla's Idea how to light up the ocean with high frequency electricity being transmitted through the Ionosphere. From the book "Tesla" by Dr. Branimir Jovanovic.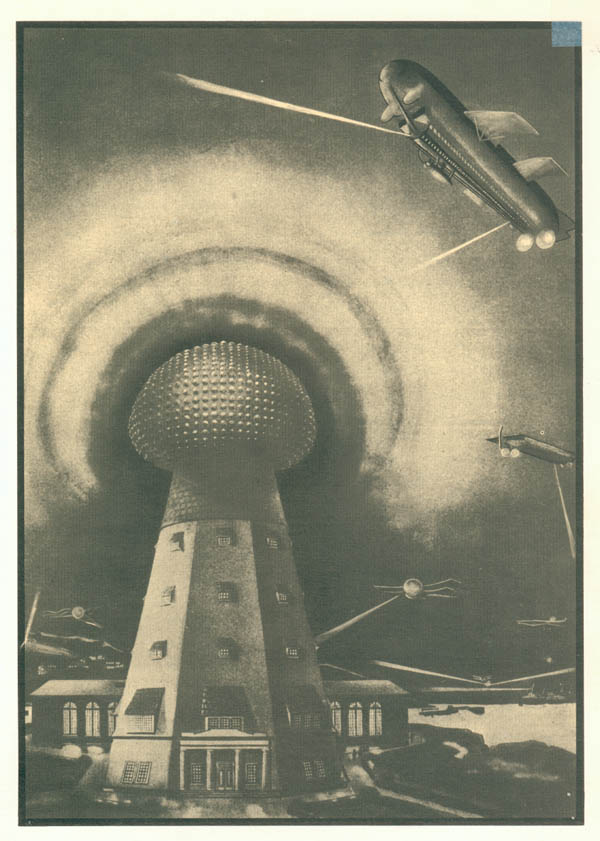 Above: Photograph of a model of Tesla Tower in action, shows how the Tower would have looked if it was completed.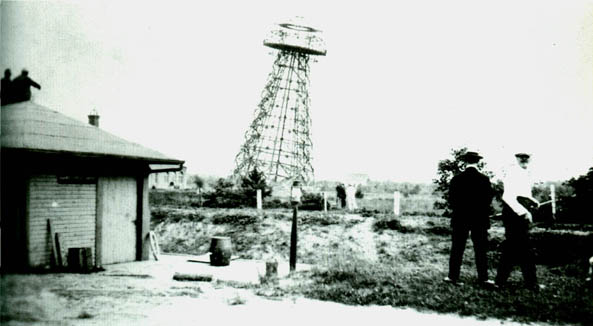 Above: The tragedy of Tesla in Wardenclyffe, the tower was dismantled on July 4, 1917. It was dynamited and razed by the mortgage holder, the proprietor of the Waldorf-Astoria Hotel.
A Visit to Tesla Tower (June 10, 1990)
Tesla Memorial Society of New York and The Nikola Tesla Committee organized a visit to the Tesla Tower in Shoreham, Long Island on June 10, 1990. The famous Tesla Tower, so called Wardenclyffe Tower, was erected by Nikola Tesla on 1901 -1903 as the first broadcasting system in the world, and transmitting electrical energy without wires to the globe using the Ionosphere (the electrified upper part of the atmosphere of the earth important for transmitting radio waves around the globe). Under the solar radiation, molecoles of the upper atmosphere are being constantly transmitted into ions.
The visit to the Tesla Tower was done with the intention to express our views that the Tesla Tower foundation be designed as a national historical site. There are several Tesla Societies in Long Island today which are formed with the intention to build a Tesla Science Museum in Shoreham, Long Island. Tesla's laboratory was designed by the famous American architect and Tesla's friend, Stanford White. The laboratory is still standing in good condition. In front of Tesla's laboratory, there is a foundation of Tesla's Wardenclyffe Tower which was an enormous structure underground connecting the Tower with the Atlantic Ocean. J.P. Morgan, the richest and most powerful man of that time, was a financier of the Tesla Broadcasting system. The Tower was designed as a world communications center and Nikola Tesla added to the project in that the tower would also be used for transmitting electrical energy without wires to the entire globe. Tesla wanted to saturate the globe with electricity as a dynamo so that everyone on the surface of the globe could obtain electrical light just by sticking wires into the soil and a electrical bulb would light. When J.P. Morgan heard about the Tesla project, he was asked: "How can we get money from the electricity which Tesla is supplying to every part of the world?" After that Morgan cut the funds and the Tower was never finished.
Tesla wanted to bring electricity from the huge resources at Niagara Falls Power Plant and disperse it all around the globe. What a magnificent project it was, however it was never finished. The concept of telephone and telegraph communications, developed by Tesla on Long Island, is still the foundation of today's rapidly growing development of international and intercontinental wireless communications.
The visit to Tesla Tower on June 10, 1990 was so successful that 10 United States Congressmen and one Senator spoke in the American Congress about Nikola Tesla. American Congresswomen Hon. Helen Delich Bentley had a beautiful speech about Nikola Tesla in the US Congress on July 10th 1990, celebrating the 134th birthday of Nikola Tesla.
Photos at the Ceremony at Wardenclyffe (Tesla Tower)
United States Governor's Proclamations, Proclaiming in their States July 10th, "Nikola Tesla Day"
Governor's Proclamation of New York
Governor's Proclamation of New Jersey
Mayor's Proclamation of New York
Governor's Proclamation of Nevada
Governor's Proclamation Arizona
Governor's Proclamation of Colorado
Governor's Proclamation of New York, Mario Cuomo, Governor, Sept. 6, 1989
Governor's Proclamation of New York, Mario Cuomo, Governor, July 10, 1990
Commonwealth of Pennsylvania, Governor Robert P. Casey, July 10, 1989
Commonwealth of Pennsylvania, Governor Dick Thornburgh, Sept. 21, 1983
State of Minnesota, Governor Rudy Perpich, June 6, 1984
The City of New York, Mayor David N. Dinkins, January 16, 1993
Niagara County Legislature, Chairman Lee Simonson, January 15, 1991
Congressman's Speech 1 (July 11, 1990, Chairman of the Science, Space and Technology Committee)
Congressman's Speech 2 (July 11, 1990, Congresswoman Helen Delich Bentley)
Tesla Coil in Action by Dr. Ljubo Vujovic
US Congressional Records
July 1990
Honoring the 134th birthday of Nikola Tesla, US Congressmen's speeches:
Hon. Congresswoman Helen Delich Bentley ( Page 1 )
Hon. Robert A. Roe of New Jersey ( Page 1 )
Hon. Leon E. Panetta Dem. of California ( Page 1 | Page 2 )
Hon. George W. Gekas of Pennsylvania ( Page 1 )
Hon. George J. Hochbrueckner of New York ( Page 1 )
Senator Levin from Michigan ( Page 1 | Page 2 )
Hon. Eliot L. Engel of New York ( Page 1 )
Hon. Joel Hefley of Colorado, June 29, 1989 ( Page 1 | Page 2 )
United States Senator Mark O. Hatfield, June 21, 1984 ( Page 1 )
Tesla Posters - Patents and Inventions
by Dr. Ljubo Vujovic,
Secretary General, Tesla Memorial Society of New York