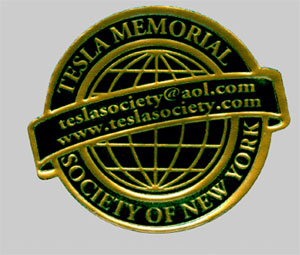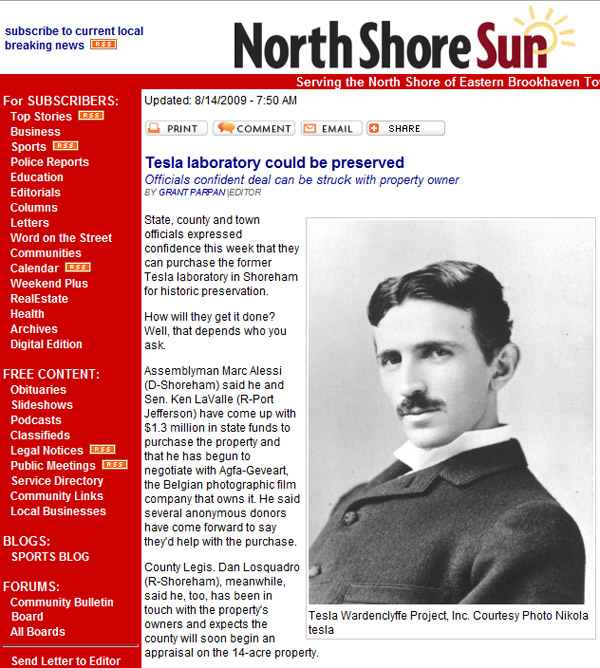 The following article can be found at North Shore Sun Website

Officials confident deal can be struck with property owner
BY GRANT PARPAN

State, county and town officials expressed confidence this week that they can purchase the former Tesla laboratory in Shoreham for historic preservation.

How will they get it done? Well, that depends who you ask.

Assemblyman Marc Alessi (D-Shoreham) said he and Sen. Ken LaValle (R-Port Jefferson) have come up with $1.3 million in state funds to purchase the property and that he has begun to negotiate with Agfa-Geveart, the Belgian photographic film company that owns it. He said several anonymous donors have come forward to say they'd help with the purchase.

County Legis. Dan Losquadro (R-Shoreham), meanwhile, said he, too, has been in touch with the property's owners and expects the county will soon begin an appraisal on the 14-acre property.

Both Mr. Losquadro and Mr. Alessi said they feel confident their individual efforts can be successful and that they will be in a position to make an offer the property owners will accept.

No matter which level of government is successful, local activists hoping to turn the former laboratory into a museum are thrilled that something's getting done.

"We're delighted," said Wading River resident Jane Alcorn, president of the Tesla Science Center. "We're just excited efforts are being made at all levels of government. Hopefully, one of them will be successful or all will be successful."

A rival of Thomas Edison, Nikola Tesla was an icon of science; historians rank him among the most important contributors to the birth of commercial electricity. He is known for his patents on radio, neon lighting and the remote control.

His former lab in Shoreham, where he worked in his later years around the turn of the 20th century, was listed for sale at $1.65 million in The New York Times real estate section earlier this year. The property has generated numerous calls from potential buyers, John O'Hara of Corporate Realty Services, who is brokering the land for Agfa, told the Sun in May.

Mr. O'Hara confirmed that one potential buyer had even expressed interest in building 48 condominiums for first-time home buyers working at Brookhaven National Laboratory and donating seven acres to the county for preservation. That deal was squashed after members of the public objected, he said.

Both Mr. Alessi and Mr. Losquadro said Agfa and an unidentified buyer recently were close to reaching another deal, but those talks fell apart, too.

Mr. Losquadro said Agfa declined to have the county appraise the property while they were negotiating the other deal, but now they appear open to the possibility of preservation.

"You can't do anything without a willing seller, but now that we have a willing seller, things are looking up," Mr. Losquadro said.

Mr. Alessi said even if Agfa is not interested in selling for preservation, they might still be motivated by the possibility of condemnation and a public sale by the Town of Brookhaven.

Brookhaven Town Supervisor Mark Lesko said condemnation is an option, but both Mr. Lesko and Mr. Alessi hope it doesn't come to that.

"The best thing for all parties would be to reach an agreement that satisfies us all," Mr. Alessi said.

Both Mr. Losquadro and Brookhaven Town Councilwoman Jane Bonner, who also represents the Shoreham community, said they are worried that threatening to acquire the land through condemnation could be counterproductive to the current negotiations.

Mr. Losquadro declined to speculate on the likely purchase price. He did, however, say that he believes other offers have fallen far short of the $1.65 million asking price that was advertised.

Both Mr. Losquadro and Mr. Lesko said they would like to see the property used as a museum. Ms. Alcorn, who has fought for historic preservation of the property for 15 years, and her organization would like the same thing. Mr. Alessi said he would also like to see Brookhaven National Laboratory or SUNY Stony Brook have a presence on the site.

"There are a lot of opportunities here," Mr. Alessi said. "We have to get something done.

"Nikola Tesla was such a remarkable man and such an important component of our local history."

gparpan@northshoresun.com




Notice about comments:
The North Shore Sun is pleased to offer readers the ability to comment on stories. We expect our readers to engage in lively, yet civil discourse. The North Shore Sun does not edit user submitted statements and we cannot promise that readers will not occasionally find offensive or inaccurate comments posted in the comments area. Responsibility for the statements posted lies with the person submitting the comment, not The North Shore Sun. Please be reminded, however, that in accordance with our Terms of Service and federal law, we are under no obligation to remove any third party comments posted on our website.