Memory of the World, United Nations (Unesco)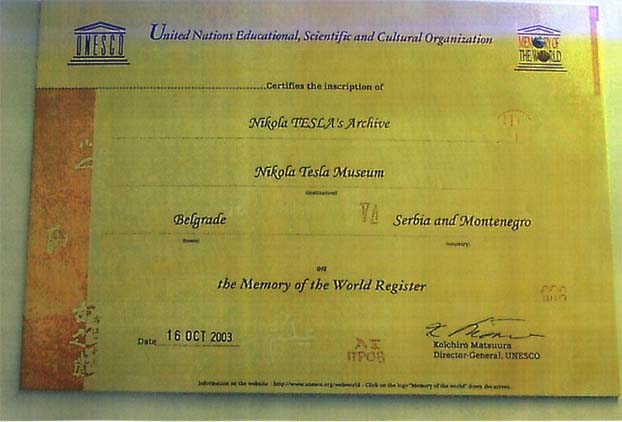 2 September 2003 Some 600 works of the 10th century physician and scientist Ibn Sina and the archives of Nikola Tesla, a pioneer in electrification, are among the 23 documentary collections from 20 countries selected for inscription on the Memory of the World Register of library and archive material. The International Advisory Committee of UNESCO's Memory of the World Programme selected the collections during a meeting in Gdansk (Poland) that ended last Saturday.
Nikola Tesla's Archive in Belgrade (Serbia and Montenegro) constitutes a unique collection of 160,000 pages of patent documentation, scientific correspondence, scientific papers, manuscripts, technical drawings, scientific measuring data, personal documents and legal papers, as well as 1,000 original photographs of Tesla's experiments and inventions, all of which are indispensable to the study of the history of electrification.
A total of 91 properties from 45 countries are inscribed on the Memory of the World Register, which was established in 1997 to preserve and promote documentary heritage of universal value.
Memory of the World by the United Nations click here