New York, January 12, 2002
The purpose of this society is to honor and perpetuate the memory, ideals, scientific achievements and Tesla's contribution to the progress of humanity. It was founded in 1979 in Buffalo, New York, USA. The society is promoting science, peace and brotherhood among nations. It is a non-profit organization.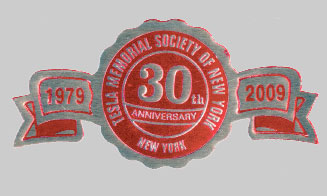 Executive Board
Tesla Memorial Society of New York
President – Dr. Ljubo Vujovic M.D., writer, film producer
Honorary Chairman - Helen Delich Bentley, former US Congresswoman, in her honor the Port of Baltimore was named the "Helen Delich Bentley Port of Baltimore".
Vice President – Professor Dr. Aleksandar Marincic, previous Director of Nikola Tesla Museum, Belgrade, writer, educator, film producer
Vice President –
Bishop Irinej Dobrijevic of Australia and New Zealand - previous Director, Office of Serbian Orthodox Church, Washington D.C.
Vice President – Dr. James F. Corum – writer, scientist and
previous Professor of West Virginia University, United States
Vice President – Prof. Jasmina Vujic, University of California at Berkeley
Vice President – Dr. Nenad Mandic, scientist
Les Drysdale - the famous Tesla monument sculptor of the Tesla Monument at Niagara Falls
Ambassador Dr. Milos Prica - Ambassador of Bosnia and Hercegovina to the United Nations
Dr. Mihailo Rundo - physician in Frankfurt, Germany.
Dr. Michael Pravica - Associate Professor of Physics, University of Nevada, Las Vegas
Martin Selak - Inventor, Honorary Chairman of the Committee for 150 years celebration of Michael Pupin's birth and founder of the "Marin Selak Award" for best inventions in Serbia.
Olivera Kosic - television director
Marc Seifer Ph.D, writer, Tesla Biographer, Hand writing expert
Mark Zito - Niagara Falls Board of Education
Marko Vujovic - Web Designer
Arthur "Jibby" Jibilian - WWII American hero from "Operation Halyard".
W. Barnard Carlson - Writer, Tesla biographer
Treasurer – Capt. Slobodan Todorovic
Dr. Sven Hinrich-Siemers - Director of Nordsee Museums, Husum, Germany
Charlotte Muzar – writer, previous Secretary of Tesla's nephew, Ambassador Sava Kosanovic
Youth Division – John Wagner, writer, educator
Public Relations – Milan Lučic, writer, journalist
Igor Gojkovic - Journalist
Susannah Norris-Lindsay - artist
Krsto Papic - famous Croatian filmmaker, author of the film: "The Secrets of Nikola Tesla"
Joseph Kinney - Manager of Hotel New Yorker
Prof. Dr. Branko Kovacevic - Dean of Electro-Technical Facility, University of Belgrade
Iwona Vujovic - technical director
Armando Arodondo - director of research
Timothy Thompson - Technical Information Analyst/Special Projects
Mr. Vladimir Jelenkovic - Director of the Nikola Tesla Museum in Belgrade, Serbia.
Dr. Dusan Kalicanin - New York physician
Djura Grubisic - media coordinator
Dr. Edson Andre Johnson - initiated "Global Energy Independence Day," celebrated on July 10, 2005 -- the birth date of Nikola Tesla.
Miloje Popovic - freelance writer and journalist
Donald Lesiak, former Consulting Aerospace Engineer at RCA on Apollo Descent Engine Control Assembly for Landing on Moon
Ken Russell - famous English film producer, making a new film about Nikola Tesla.
Petar Stojanovic - founder of the Tesla Society of Switzerland
Vasilj Petrovic - P.Eng. PMP
Slobodan Bab Davidovic - magister
Branimir Pofuk - journalist, writer, music critic
Spasenka Scopu - secretary.
Tanja Rudez - journalist, writer.
Dr. Ljiljana Kojic-Bogdanovich - writer, film producer, wrote the screenplay for the new Tesla film "Tesla and Katharine" with Ken Russell.
Velimir Nestorovic - M.S. Env. Eng.
Ivan Marjanovic De Tonya - writer, researcher and Tesla biographer, Los Angeles, California
Marina Bulatovic - Journalist and publicist, initiator for the Proclamation of "Nikola Tesla Day of Science"
Nebojša Stojković - contributor of Tesla photographs
Dr. Sven-Hinrich Siemers - Museums Manager, NordseeMuseum, Husum, Northern Germany. Discovered Nikola Tesla's famous "Blue Portrait" painted by Princess Vilma Lwoff-Parlaghy.
Prof. Dr. Ljubinko Ilic - President of JUPIN - Inventors Association
Prof. Dr. Slobodanka Djolic - Member of JUPIN - Inventors Association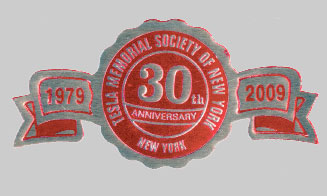 Secretaries of Tesla Memorial Society of New York Worldwide
Secretary for Russia – Leonid Leonov, Russian cosmonaut, first man to walk in space
Secretary for Sri Lanka - Sarath Walisundara, Electrical Engineer, visiting lecturer at the College of Technology, Kandy, Sri Lanka (off the southern coast of India).
Secretary for Scotland - A.J. Morton, researcher
Secretary for Turkey - Dr. Niyazi Yukcu, Expert in Molecular and Mathematical Physics - Adiyaman University, Turkey.
Secretary for Brazil - Engineer Cesar Augusto Morelli (Passo Fundo, Brazil)
Secretary for Serbia - Misa Novakovic
Secretary for Canada -
Vasilj Petrovic - P.Eng. PMP
Secretary for India - Khurshid Ahmed
Secretary for France – Nicolas Petrovitch-Njegosh, Prince of Montenegro
Secretary for Germany – Dr. Mihailo Rundo, M.D.
Secretary for Japan –Masaaki Shindo, writer, Tesla Biographer
Secretary for Czech Republic – Honorable Vladimar Galuska, Ambassador of the Czech Republic to the United Nations.
Secretary for Brazil - Dennis Pinheiro
Secretary for Croatia - Davor Perkovic
Secretary for Montenegro – Jovan Markus - writer and expert of the Balkans history and art.
Secretary for Spain - Pedro Cruz Pagador
Secretary for Poland – Professor Zbigniew Zimniak, Wroclaw University of Technology
Secretary for Australia - D. Susic, inventor of the biomagnetic micro massage therapy
Secretary for Belgium - Herman Reynaert, Engineer and Researcher
Secretary for Nigeria - Augustine Togonu-Bickersteth, journalist and editor - Nucleus, The Magazine of the Physics and Engineering Physics Society.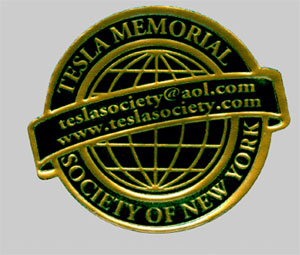 Board of Directors
Tesla Memorial Society of New York
Dr. Hani Shennib MD – cardiac surgeon who performed the first cardiac bypass surgery, with the aid of a robot, in New York Metropolitan area.
Margaret Cheney – writer, Tesla Biographer
Leland I. Anderson – writer, researcher, founder of Tesla Society
Prof. Sam Cicalese - Criminal Justice
Kathryn Hauser - American Television in Melville, Long Island
Marko Lopusina - journalist, writer
Ed Fischer - Electrical Engineer working for the State of New York
Miro Brankovic - Director for documentary programming, Croatian Television
Prof. Nena Komarica - Art Historian
Boris Pavelic - journalist
Andrej Klancnik - Tesla Relative
Branko Jermanis - Engineer from Croatia
Rajko Pavicevic, writer, journalist, television director
Nenad Milinkovic - M.E.E., MBA
Vasilj Petrovic - P. Eng. PMP PEO Kingway Capter Chair
Ramesh C. Ghildyal
-
Associate Professor of electronics At the University of Allahabad, India
Gecko Saccomanno - Founder of Collective: Unconscious Theater in New York City
Dr. Borivoje A. Markovic - Chairman, the Fund for the Development of the Balkans, Inc.
Karel H. Hille - jounrnalist, Editor of MUST Magazine in Harlem, Nederland.
Zorica Civric - Curator of Nikola Tesla Museum in Belgrade, Yugoslavia.
Dubravka Smiljanic – Nikola Tesla Museum, Belgrade
Scott M. Harney - Advisor, United States Mission to the United Nations
Natasa Kozic
Zenaida A. Pastoriza - Registered Nurse, New York.
Zivadin Krstic - businessman
Milos Raickovich – Composer/conductor
V. Rev. Djokan Majstorovic
V. Rev. Predrag Micic
V. Rev. Toma Stojsic
Tereza Djermis - journalist
Anton Angelich – public relations
Carol Costa – writer, Tesla Biographer
Karen Klami – writer
Professor Henry Stroke – N.Y. University, scientist
Professor Boris Sinkovich – N.Y. University, scientist
Kingsley Samuel – Director of Management Information Systems
Richard L. Hull – Founder, Tesla Coil Builders of Richmond, Virginia, scientist
Bogdan Kosanovich – computer specialist
Bhob Stewart – journalist
Dr. Smilja Matijevic M.D.
Dr. Relja Nedeljkovic
Alex Reyes - University of Texas at Dallas
Prof. Veselin Djuretic - writer
Dr. Dusan Kosovich, M.D.
Dr. Marisa Pezzulich, M.D.
Dr. Lila Kalinich, M.D.
Branka Rifai
Vesko Perunovic – Academic artist
Boris Mardesic – Academic artist
Michael Parrinello
Dusko Petrovic – Poet and singer
Prof. Milica Novkovic
B
ranislav Lucic
Predrag Vujovic
Novica Vujovic
Mirjana van Blaircom - founder of the International Press Academy's Tesla Award in Hollywood.
Prof. Dr. Djordje Lazin - professor Belgrade University.
Prof. Dr. Dragan Radenovic - Harvard University, sculptor of Tesla Bust.
Jeff Rager
Elena Dent
Heerak Shad - Master of Fine Arts, TeleVision and Radio
Jovan Markus - writer and expert of the Balkans history and art.
Aleksandar Ivanovic - publisher
Milos Rastovic - Writer, "Lightning on Demand"